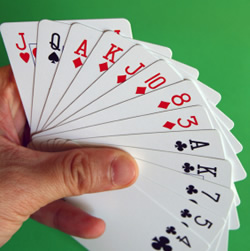 About the Club
The club was first started in 1961 by a small group of keen card players (some of whom are still regular members) and has since grown to a membership of close to 100. New members are always welcome and if you don't have a regular partner then the club secretary will try and find you one – Thursday evenings is the regular club night with close to 15 tables split into 2 sections.
Sunday evenings is a smaller gathering with 4 to 6 tables in the meeting room.
The Club President is Bob Whooley

Looking for a partner call 083-3655062
Beginners Classes
These are regularly held in the hall and when you start playing on the Thursday nights, there is a handicap system in place giving everyone a chance to become a winner of the night (the more you win, the more you get "handicapped" with minus points, whilst beginners get plus points !
Join Us
Whether you are a Strong or Weak No Trump Player, ACOL, SAYC - it doesn't matter, you'll enjoy 22 hands on an evening playing against strong and not so strong pairs of bridge enthusiasts. There will also be the occasional "Pairs Night" or "Individual Competition".
Abbeystrewry Hall Bridge Street, Skibbereen, Co Cork | 087-1549356